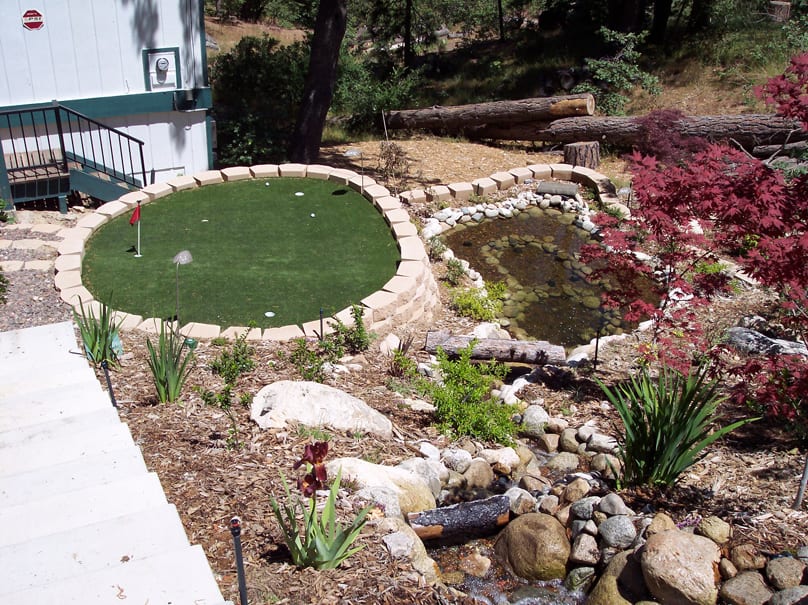 Schubert Landscaping uses the best synthetic turfs available. Grasses that are so life like that's it's hard to tell the difference; the only visible difference is that your neighbors will notice is that your lawn will always look great all year.
Maintenance is virtually non-existent: during the fall months leaves and debris might drop on the turf, but with a leaf blower and little effort, your lawn will be looking great once again.
Your new turf will give you much enjoyment and eye catching moments for years. Why you might ask? Well the waterless grass comes with a limited 8 year warranty; actual life expectancy is 15-20 years. Not to worry even the sun won't affect the life expectancy of your new turf. Each fiber has a UV protection coating which enables the turf to maintain its durable condition and great color, not only that but this turf will withstand the sun, heat, wind, snow and ice.
Your new turf will not be affected by standing water or puddles. The turf has perforation built into the backing; these small holes allow water to drain out, similar to an actual lawn or turf.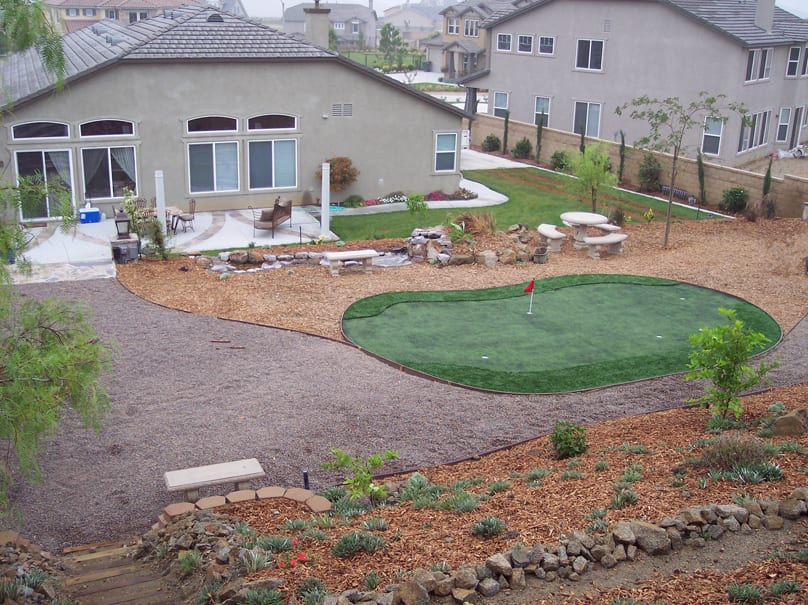 Your new turf will be completely safe and durable for house hold pets. In fact installing a synthetic turf in the case of a dog run is a very common thing. After your pet christens his turf with a deposit of his loving affection simply scoop it up and if you like you can hose it down. It's that simple, and don't be worried about the turf staining as it is protected and will look great year round.
There are so many benefits that you will enjoy with your new turf, not to mention the cost savings. Think about it; no sprinkler installation, no top soil, you don't have the cost of new sod or the year or so waiting for grass seed to mature. You save money each month on your water bill; you won't have to mow your lawn or have to pay someone to mow it for you. No weeding, no fertilizing, you investment in a new synthetic turf or golf green will pay for itself in just a few years.
So if you know what style golf green or waterless grass you want or you would like our design team to create your personal golf retreat, then call the Schubert Team today. We have designed many landscapes for the Highland, Redlands, Yucaipa, San Bernardino areas.